The fourth annual Nora Searle Memorial Fun Run to benefit Dana-Farber Cancer Institute will be held on Sunday, October 1, rain or shine. With an 8:00 a.m. start at the Pine Hill Elementary School in Sherborn, the Fun Run will finish at the Dover-Sherborn Regional Schools athletic fields, in Dover. The 4.02-mile Fun Run winds through scenic, tree-lined roads, passes beautiful fields and historic farm houses, and crosses over the Charles River before concluding at the Dover-Sherborn Regional Schools campus.
This community event is intended to remember and celebrate the life of Nora Searle, a life-long resident of Sherborn. An athlete, student, and friend, Nora died in April, 2012, after a brave and graceful battle against cancer. She was 14 years old.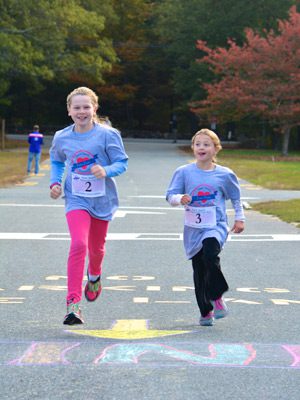 In addition to the extraordinary support of friends and family, Nora received care during her illness at the world-renowned Dana-Farber Cancer Institute in Boston. Dana-Farber will receive all proceeds from the Fun Run as both an expression of gratitude and to support Dana-Farber's commitment to the highest caliber of innovative cancer research and compassionate patient-care programs.
This year, Nora's Fun Run has joined forces with Positive Tracks, a nonprofit organization based in Hanover, NH, that encourages young people to get active and give back to the community. Its mission is to help youth turn sweat into civic action by participating in athletic events that raise money for good causes. Through Positive Tracks' U23 program, each dollar raised by Fun Run participants 23 and under will be matched, up to $23.
Visit www.positivetracks.org (search "Nora Searle Memorial Fun Run") or go directly to sweat.positivetracks.org/norasearlememorialfunrun to register for the Fun Run as a runner or as a virtual runner, to support the Nora Searle Memorial Fun Run and Dana-Farber Cancer Institute as a donor, and to learn more about this wonderful community event.