By Laura Drinan
Hometown Weekly Reporter
"We know them as spring flowering bulbs," said Ila Cox, a plant lover and gardener. She pointed to a vase on the table inside of the Needham Free Public Library's Community Room, where members of the Needham Garden Club met for their monthly meeting.
Springing out of the vase were dozens of colorful flowers and the subject of Cox's presentation, which accompanied the Garden Club's meeting: tulips.
"They're purely decorative," said Cox, "and they're purely things of beauty."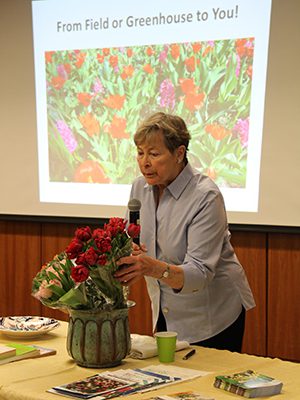 However, as the public and members of the Needham Garden Club learned, tulips were once worth more than gold during the height of the Netherlands' "tulip mania."
Before the Dutch first began growing tulips in the sixteenth century, the flowers could be seen throughout Persia and the Ottoman Empire. Tulips originated in the foothills of the northwest Himalayas as a wild flower, which is why they do so well in hot, dry soil.
Cox also explained the etymology of the name tulip, telling the Needham Garden Club members that the word originally came from the Persian "delband," which was also the word for a turban. With images of the Ottoman Empire's sultans' turbans, Cox showed the audience how the wound cloth resembled the shape of a tulip. Even in Arabic writing, some calligraphy seems to resemble a tulip.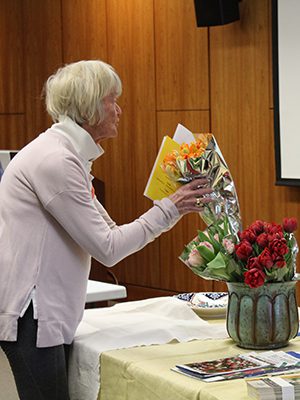 Eventually, ambassadors of the Ottoman Empire moved west, and took some bulbs with him. Tulips, best grown around the fortieth parallel north, fared well in Europe when botanist Carolus Clusius began studying the tulip at the Leiden University in the Netherlands.
"He's asked to develop the botanical garden in Leiden," said Cox. "He goes to Leiden, takes his tulip bulbs with him, and here we have the moment when the 'tulipan' gets to Holland. He stays there for about 40 years hybridizing, working with the tulip, and begins to have an understanding of how you turn this tulip into a commercial product. Then, he begins disseminating that information to people that are interested in building nurseries."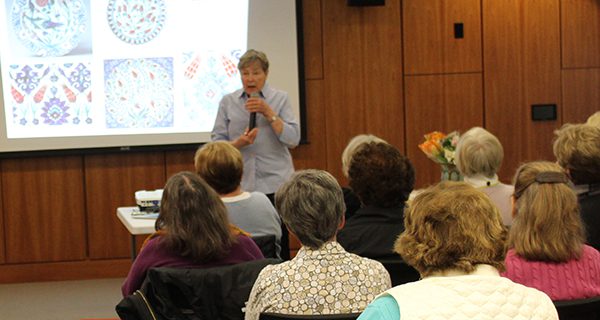 Before long, hundreds of acres were dedicated to growing tulips in Holland and became highly in demand. She mentioned, too, the tulip break virus, which caused variations in colors, but weakened the mother bulb.
Cox, having travelled around the world to study plants, also discussed how tulips are grown and sold today. She even shared her experience at the Aalsmeer Flower Auction in the Netherlands, an auction house as big as 180 football fields dedicated to wholesale flower auctions - the largest in the world.
At the end of her presentation, all were welcomed to ask questions and participate in a tulip giveaway.
The Needham Garden Club frequently hosts fascinating events for the public, such as Cox's presentation on the history of the tulip and other hands-on workshops. Visit their website, www.needhamgardenclub.com, to learn about upcoming events and ways to get involved.