Photos by Chris Tess
By Audrey Anderson
Hometown Weekly Correspondent
The Needham Community Theatre presented a top-notch production of Disney's "The Little Mermaid" from November 16–25 at the Newman Elementary School Auditorium in Needham. The audience was indeed fortunate to see this fantastic production, which offered outstanding singing and acting, in addition to exciting sound and lighting effects.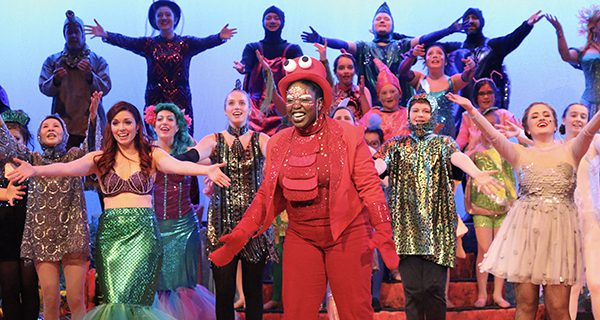 The set, designed by Heather Daley and Chris Stulb, made it feel like the audience was truly "under the sea," with wood cut into the shape of waves at the foot of the stage. Ariel rode onto the stage on a moving rock formation, and a set of coral shelves held her collection of human artifacts at the right of the stage. Eric steered his ship on a large platform in the shape of an ocean-going vessel. His shipmates danced and sang on either side. Later, Eric rowed Ariel onto the stage in a moving boat. Triton ruled over his kingdom at the back of the stage, and a glow-in-the-dark multicolored divider was moved in to represent Ursula's lair. The design allowed for quick scene changes with addition of a few pieces, and there was plenty of room for the rousing ensemble dance numbers.
The sound and lighting effects were exceptional. Every word was heard clearly. Triton's blasts were amplified to underscore his anger at key moments. Ariel's own voice was well-distinguished from the voice inside the magic shell. Lightning flashed and thunder roared. In a quartet number, the spotlight illuminated each actor as they sang their part.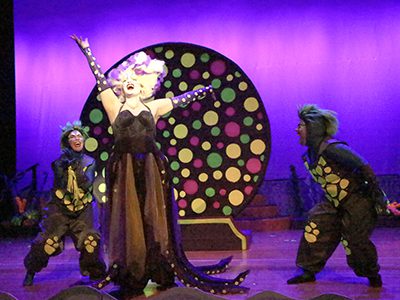 Charlotte Delaney (Ariel) was a delight to watch. Her voice was crystal clear with a beautiful timbre and excellent diction, and she owned the climactic moments as a Disney princess should. She portrayed Ariel as a self-possessed and determined young mer-woman who knew her direction in life and took the steps she needed to get there.
Billy Luce (Eric) enchanted the audience with a rich voice and subtle acting skills. He was every bit the dashing prince overtaken by love.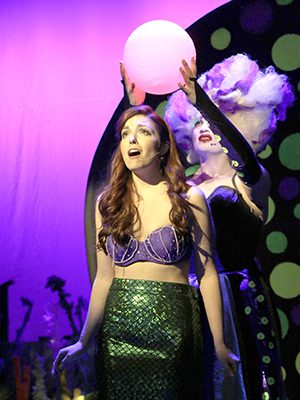 Barbara Pierre portrayed a lively Sebastian, filled with the joy of life and love. Her voice was strong and full, and she expertly led the big dance numbers, such as "Under the Sea," as a spirited master-of-ceremonies.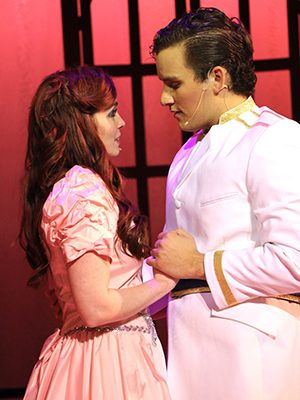 Alexandra Rickoff (Ursula) was positively and delightfully evil, with a strong voice and accomplished acting chops. She switched from pretending to be Ariel's helper and confidant to her true self-absorbed, greedy nature without a pause. With excellent timing and gestures, she created the maximum effect with each line. Flotsam (Rachael Baril) and Jetsam (Maeve McCluskey), Ursula's evil sidekicks, deserve special recognition for their energetic stage movements and teamwork.
Jon Baril (Triton) projected kingly command and fatherly love. His voice boomed, and his bearing was royal.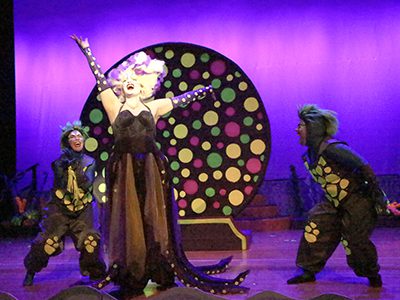 Katie Abbruzzese portrayed the joyous and zany Chef Louis, and made the most of the flamboyant "Les Poissons."
The superbly talented cast and crew of this "Little Mermaid" performed on a level that normally can't be seen outside of the big city. How lucky Needham is to have this quality of performance right in town! For a great night out, don't miss the next production by the Needham Community Theatre, "Tom Sawyer," which will be presented in May 2019.