By Robby McKittrick
Hometown Weekly Reporter
Down 2-0 at home with around 15:00 remaining in their season on Monday night, the Dover-Sherborn girls soccer team knew they had to be mentally tough to continue their season.
"We've been down a lot this season," explained Dover-Sherborn head coach Evren Gunduz. "We never take failure as a setback. Our motto is fail forward and … we use that to make us better for the next play and next opportunity."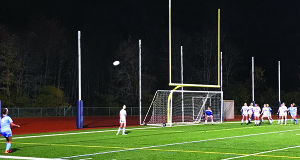 The girls responded with a late three-goal surge in the second half to defeat Medfield in a thriller to advance to the state tournament.
"We go down a goal or two, it doesn't usually faze us," Gundez said. "We just dig our heels deeper. We have been working on that all season, and that is part of our growth process, and I expected them to keep fighting."
Dover Sherborn received two goals from Hope Shue and one goal from Mica Bookins. However, Gundez was proud of all of his player's effort.
"[They showed] resilience, heart, passion, [and] fight," Gundez said. [They didn't want] to die, [and] just [showed] a survival instinct that I was really proud of."
Dover-Sherborn improved to 8-8-2 on the year, while Medfield fell to 9-7-2.
Medfield had led, 2-0, in the second half after receiving breakaway goals from Allie Dobbs and Marissa Gorog.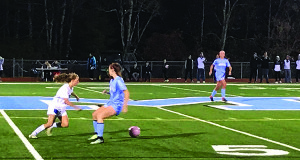 However, the Raiders were able to respond and ultimately take the lead after a goal by Hope Shue with 6:07 remaining to clinch a tournament bid.
Although Medfield will also be headed to the tournament, the game was a frustrating loss for the whole team.
"The message is to keep their heads up and to look forward to the postseason and learn and grow from this game," said Medfield head coach Michael LaFrancesca. "We have to play 80 minutes of soccer, because as we get to the postseason, it's going to be harder and harder [to win], and … we have to have to take advantage of every opportunity."
"I thought we played really well and put a lot of pressure on them," LaFrancesca added. "Hats off to the [Dover-Sherborn] coaching staff. They do a nice job."