The 4-H year is almost over, and a new year is just around the corner. This past year, Sunny Rock 4-H'ers, ages 6-18, got to experience life on a farm. Kids from all five clubs (one club per animal) learned about the daily care of their animals, and made many new friends. 4-H teaches kids responsibility, and many other important life skills.
About once a month, each club held a meeting. At each meeting, kids learned more about their animal. In the fall, most of the clubs learned about breeding, followed by the care of pregnant animals throughout the winter. Finally, in the spring, the 4-H'ers helped birth the baby animals.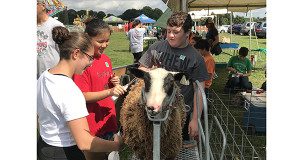 But the work was not over once the animals are born. Kids still had to care for the babies, watch them carefully, and sometimes even bottle-feed them.
Over the summer, kids got the opportunity to run the Junior Farmer summer camp. Through this program, kids learned responsibility, because the success of the camp was in the hands of the 4-H'ers themselves. In the mornings, they set up the camp before the campers came. Throughout the day, they worked with the campers to teach them about a specific animal. The animals each camper took care of included: sheep, goats, cows, chickens, horses, and rabbits. As they learned to feed, water, and care for the animals, they got a real glimpse of farm life. And at the end of the day, when all of the campers went home, the 4-H'ers had to clean up.
On September 15, the Sunny Rock 4-H club closed the year at Wrentham's Cracker Barrel Fair. At the fair, 4-H'ers showcased their animals to the public, and got to meet other 4-H clubs. The club brought sheep, goats, chickens, ducks, and rabbits for people to pet and feed. A few of the 4-H'ers even demonstrated the hand-shearing of sheep, and got the chance to show their poultry. The fair was a great place for kids from all five of the clubs to come together and bond. The club is looking forward to another successful year.