Judith Kalaora, founder of History At Play, brought Deborah Sampson to life at the Walpole Library. Photos by Katrina Margolis

By Katrina Margolis
Hometown Weekly Reporter
Walking into the Community Room of the Walpole Public Library on April 12 was like entering into a time machine. Before a packed audience stood Deborah Sampson, the first woman to enlist, to fight, and to be honorably discharged from the American military. A Massachusetts native, Sampson disguised herself as a man in order to fight in the Continental Army during the Revolutionary War.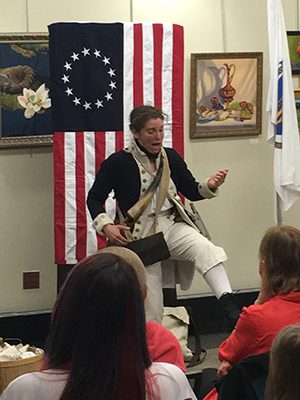 And there she stood, dressed in her uniform, inside the Walpole Library.
Judith Kalaora is a professional actress, historical interpreter and educator. Deborah Sampson is just one of the characters she brings to life for contemporary audiences. Her enthusiasm and commitment radiate throughout the room, transporting her audience back sometimes hundreds of years.
On May 20, 1782, Sampson bound her chest, tied back her hair, and enlisted in the 4th Massachusetts Regiment of the Continental Army as Robert Shurtlieff. An indentured servant at the age of five, Sampson grew up to feel a higher calling. She served for 17 months until being wounded in 1782. She was honorably discharged at West Point in 1783.
In addition to Sampson, Kalaora has performances that bring to life Lucy Stone, Hedy Lamarr, and Christa McAuliffe. Kalaora founded History At Play, and serves as its artistic director. Their goal is to educate and entertain students young and old, from all over the world. Sampson was Kalaora's debut performance, and only the beginning. Kalaora focuses mainly on important women in history, however as the team has grown, so has the breadth of her presentations. Performances now include "A Downton Experience," which brings the TV show Downton Abbey to life, as well as "HANCOCK! A Hamilton Tribute," which chronicles the lives of Boston's Founding Father and Mother, John and Dorothy Hancock.