Photos by Lisa Moore
By Lisa Moore
Hometown Weekly Correspondent
The annual Wellesley Cotillion was held on Saturday night, January 6, in the Metcalf Ballroom at Boston University's George Sherman Union Building. Cotillion, since the 1940s, has been an annual rite of passage for Wellesley residents in their junior and senior years of high school.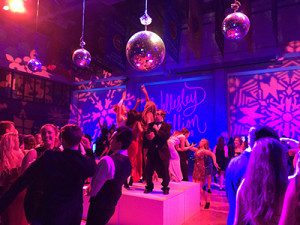 Icy cold conditions did nothing to hamper the spirit of the over 800 party-goers as they boarded one of 16 coach buses provided to ferry the guests from Wellesley High School and the Roxbury Boys and Girls Club to the party venue and back at the end of the evening.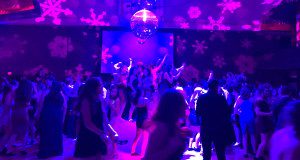 The evening went off without a hitch and ran like a well-oiled machine, thanks to the massive efforts of a committee of parent volunteers that put on the elegant winter dance and a wonderful evening for the students and their guests. The event was "black tie," and the Cotillion Committee, spearheaded this year by Stacy Fleming and Sandy Tortorella, expressed to students that black tie is more than just a dress code, but also a code of conduct.
The students took heed. Using skills many obtained in the Wellesley social dance and etiquette classes they took in fifth grade, they greeted adult chaperones in a receiving line, introduced their guests, and behaved as elegantly as they dressed.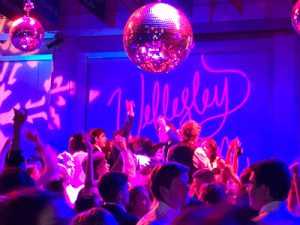 For the duration of the event, students packed the dance floor, vying for space on the coveted elevated dance platforms scattered around the ballroom. They dined on an impressive spread of food to keep up their energy in an elegant lounge area where they could sit and talk with friends. To oversee the evening, several parent volunteers were scattered around the venue to chaperone. Several were also designated photographers for the event and posted streaming photos on a large screen adjacent to the dance floor.
All photos from the evening will be posted on the Wellesley Cotillion website and may be downloaded for free. For more information about photos or to volunteer for next year's Cotillion, visit www.wellesleycotillion.org.